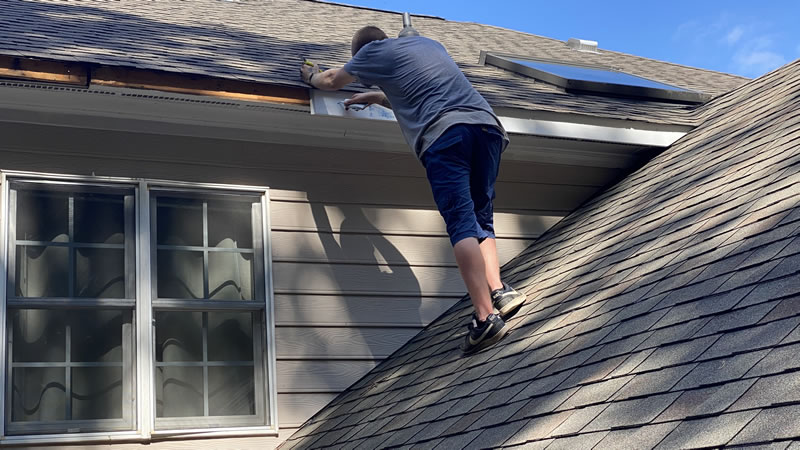 Fascia Boards describe the horizontal, outside facing edge just below your roof line.  Many houses have these painted to match their house color or with contrasting colors so they really stand out and add a level of visual appeal.  Unfortunately with our weather we get in North Carolina, painted wood fascia boards don't last very long and they can eventually rot and warp and degrade the look of your home or building.
Gutter Pros specializes in installing, upgrading and cladding fascia boards on your home or building.  For such a seemingly small project they make a big difference in your roof lines appearance and bring about an overal "finished" look to your home.
Why Install Aluminum Fascia Cladding?
No Need To Repaint – Aluminum fascia cladding can come pre-painted in colors that will compliment your existing exterior and Aluminum fascia cladding will never rot, fade or warp.
Low Maintenance – Fascias that aren't maintained will warp, the paint will peel and they won't look very good.  Aluminum fascia cladding won't warp, crack or fade, it just needs the odd pressure washing now and then.
We Provide Fascia Replacement and Aluminum Cladding For:
New Residential Construction
New Commercial Construction
Retrofitting Older Homes
Retrofitting Older Buildings
Shops and Garages
If you are located in our Wake County service area and need to have your building fascia repaired, replaced or covered with Aluminum fascia cladding by a professional then give Gutter Pros a call today.
We realize that you've got many choices when it comes to having aluminum fascia installed on your Wake County home. We want you to know we understand and appreciate the commitment you are about to make to your home and we take it very seriously. When you choose Gutter Pros you're choosing a partner in making your home a better place.