Rain Chains Yulee & Nassau County FL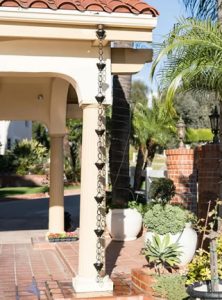 Rain Chain Installations
Rain chains are a creative alternative to a standard downspout.  They use the same gravity that a regular downspout would and by taking advantage of the properties of water they provide the same channeling capabilities of closed downspout but without the boring look.  They are a nice touch to a new gutter installation or for the home or business owner who wants to make more of an architectural statement by turning their traditional downspout into a beautiful water feature when it rains.
Rain chains can be made from a variety of materials including actual large chain links, little decorative buckets or cups, various shapes, and more.
Gutter Pros is a gutter installation company based out of Wake Forest, NC and serving COUNTY and the surrounding area.  We specialize in the installation of rain chains with our new gutter systems.  Whether you want to add the unique look of a rain chain to your home or your business building we'll be able to help you select the right style and install it properly.
If you'd like to request an estimate to have a rain chain installed on your home or building please give us a call 555 909-9700 or fill out the online form and we'll get right back to you.